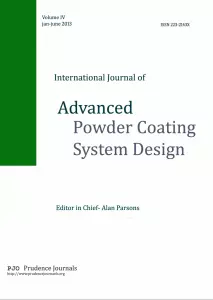 PrudenceJournals.org (PJO) is an open access, global publisher, curator, and online repository for current and historical material regarding powder coating system design, engineering, and manufacturing. In addition PJO publishes books, articles, papers, and discussion in all areas of the powder coating arena.
We also accept and publish online submissions from industry professionals who wish to contribute their knowledge whether it be equipment or chemistry related to the industry for the greater good. It is our sincere desire to offer PJO's readers and design professionals, easy access to high quality research articles, information, and design tools.
PJO is also dedicated to expanding employment opportunities throughout the powder coating and metal finishing industry by the creation and launch of the nations first, cooperative and free classified-ad-employment-network where companies both large and small voluntarily post their jobs and the jobs of others on their web sites.
Please take a moment to visit our listings page to learn how you can help us spread the word and bring as many finishing jobs to America as possible.   Our Vision is to build a world class journal that is open to everyone and is driven by the collective passion of those in the industry. Our Mission is simply to build the most robust powder coating information hub ever assembled, one that's accessible to everyone and that provides the highest caliber information available in the metal finishing industry.    
Editor in Chief
Alan Parsons
2014 Journal Members                                                          acmepowdercoating.com
astropowdercoating.com
metalworkerjobs.com
sundialpowdercoatings.com